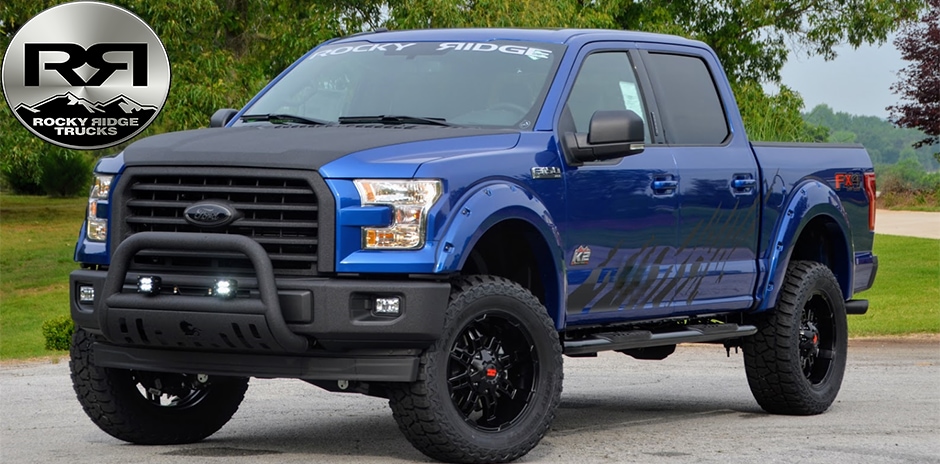 What's better than a hardworking pickup that's Built Ford Tough? How about a hardworking pickup that's Built Ford Tough and equipped with a lift package from one of the premier truck upfitters in the country? At Porter Ford, we're proud to partner with Rocky Ridge Trucks to offer advanced performance and style upgrades in accordance with Ford SVM (Special Vehicle Manufacturer) specifications. Rocky Ridge Trucks are specially equipped for extreme capability, and offer increased towing, hauling, and off-road utility.
Rocky Ridge Trucks offers Wilmington drivers a unique and cutting-edge way to personalize their Ford truck experience: from custom wheel and tire packages to their signature lift kits. Other premium add-on options include wide oval stainless-steel step bars, stainless steel exhaust tips, custom leather seats, custom paint, custom fender flares and more. In addition to suspension and aesthetic upgrades, Rocky Ridge also offers performance upgrades like superchargers and customized cooling and exhaust systems, with parts from premium manufactures like Edelbrock and ROUSH.
Rocky Ridge Trucks utilize only the top name brands in truck equipment, and all work is done in-house. No part of the process is outsourced, so they can keep a close eye on each truck for each step of the process. All Rocky Ridge-equipped Ford trucks are certified through Ford-exclusive OEM bailment programs, which means the warranty hasn't been affected. Furthermore, on top of Ford's original warranty, Rocky Ridge Trucks warranties their parts for three years/36,000 miles.
Interested in getting your own Rocky Ridge-equipped Ford truck? Don't hesitate to contact us at your convenience or come talk to us in person. Our Newark, DE Ford dealership is conveniently located to serve drivers from Elkton, Wilmington, Bear and beyond! We'll be happy to be of assistance.